Alpha History is an online history textbook, established 2011. Our content is written and compiled by teachers and historians, and made available free of charge to teachers and students around the world.
x
56
Received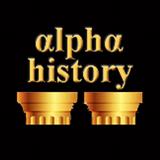 Alpha History
Thank you for clicking through to our Ko-fi page. If you're a regular user of Alpha History or have found our content particularly useful, please consider buying us a coffee. Your contribution will be passed directly to our authors and used to fund more great content in the future. Have a good day!
Ko-fi helps creators earn money from their passion. We don't take a fee from donations!
Start a Page