New Computer
Gonna try to save up and purchase a brand new computer. Hopefully the goal can be reached before 2021.
Just an artist that likes to draw cartoons and animation. I do what I can to draw almost constantly, especially character design.
x
59
Received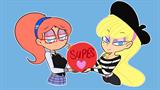 Supes
Welcome to my Ko-fi Page. If you enjoy my work, please consider supporting me with a cup of ko-fi. You can view my work on twitter, https://twitter.com/SupesArt/media
Ko-fi helps creators earn money from their passion. We don't take a fee from donations!
Start a Page