Writer, blogger and advocate of inclusive/diverse books: - Spotlights diverse works from marginalised writers over at the Paper Wanderer. - Spotlights Asian voices as an Asian Lit Chat co-host, digital coordinator, and book list contributor for Literary CelebrAsian.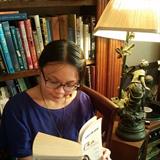 Glaiza
Welcome to my Ko-fi page. A coffee can cover a train ticket to the library and access to a wider range of books. If you enjoy my content, please consider sharing a coffee. Thank you!
Ko-fi helps creators earn money from their passion. We don't take a fee from donations!
Start a Page