Hello I'm an awkward crafter who also enjoys making illustration all cartoony style. I knit, sculpt and boy could I use your help!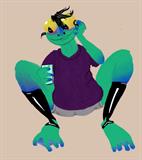 MeatMage
Welcome to my page, and thank you for your help! This will assist me on makin it day by day, since this is my main income right now.
Ko-fi helps creators earn money from their passion. We don't take a fee from donations!
Start a Page