I write speculative fiction and poetry. I also produce reviews and related nonfiction, with a special focus on marginalized authors. I am a Hungarian Jewish agender person (e/em/eir/emself or singular they pronouns) and I live in the US as a resident alien.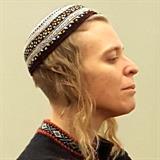 Bogi Takács
I will buy myself food and things! (I cannot drink coffee.) Thank you for your support :) Currently fundraising for my essay / howto on how to make SFF more inclusive to migrants - see my site for details! Edited to add: Goal reached - THANK YOU! I'm keeping it open tonight for people still interested in getting the bonus ebook rewards & your name in the credits!
Ko-fi helps creators earn money from their passion. We don't take a fee from donations!
Start a Page