Hello! I'm the author of the short story "Godzilla" and How We Fall, a YA romance from Simon Pulse. I copyedit thrilling and romantic inclusive fiction at Lerner Publishing Group, and coach at the Breakthrough Writers' Boot Camp. I'm a queer person of faith advocating for equality and inclusion for everyone, especially young adults.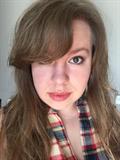 Kate Brauning
Just the fact that you're here means a lot! Your support helps me continue to help new writers get into publishing, to blog about publishing advice and writing fiction, and to advocate for an end to injustice, inequality, and abuse. It also helps me keep some of my content free, so everyone can benefit regardless of their financial situation. So thank you, so much. Really.
Ko-fi helps creators earn money from their passion. We don't take a fee from donations!
Start a Page