punk rock ballerina. writer. adventurer. queer. slightly out of context.
x
8
Received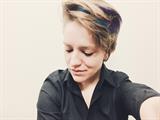 Monica
Hey! If you enjoy that writing thing I do think about sending a couple dollars my way so I can keep doing it.
Ko-fi helps creators earn money from their passion. We don't take a fee from donations!
Start a Page