Our Next USA Trip!
We can't wait to get back to America and film our next series (exact location TBC!) once all this Coronavirus stuff is over! Your donations will help towards all the costs involved in making an amazing US series on YouTube.
YouTubers and Presenting Duo. Specialising in entertainment content all about British and American culture!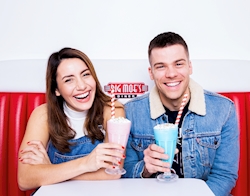 Joel & Lia
Welcome to our Ko-fi Page. If you enjoy our content, please consider supporting what we do. Thank you, for all the support so far. Because of your donations we've been able to make videos more frequently and do some of the boring things like buying a new sound device and replacement lightbulbs for our video lighting! As well as the occasional coffee or prosecco! ;) Love you guys <3
Ko-fi helps creators earn money from their passion. We don't take a fee from donations!
Start a Page