New computer monitor
Having two monitors helps me complete my projects without so much tab switching. But one of my monitors is a 15 year old NEC 2070NX from 2005 with a 4:3 ratio and serious screen burn in. The other monitor is a decent Acer K242HQL that I like a lot but it doesn't even have an HDMI port. I don't need anything fancy but it's time for an upgrade.
I'm a mid-30's cat lady in Detroit who makes weird art and tries to get money for it.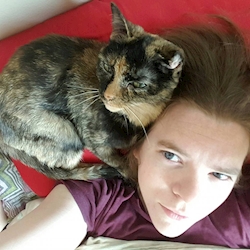 Becky Locke
Any income I receive from donations will go toward purchasing equipment that helps me create more art! This may include computer upgrades, art supplies, camera equipment or food to help me stay alive.
Ko-fi helps creators earn money from their passion. We don't take a fee from donations!
Start a Page