Our Goal is to Play music
Canarro is a group of good friends, the passion for acoustic music. Canarro's fascinating music is based on traditional gipsy jazz also known as manouche swing mixed with the Hungarian version of jazz, which evokes the old time atmosphere of the coffee houses of Budapest. The band combines the renowned style of Django Reinhardt and jazz music with the spice of Hungarian traditions.
x
6
Received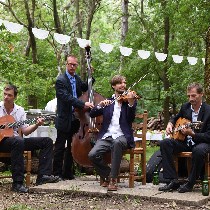 Canarro
Hello dear friends. We are musicians. (check our website for details or our youtube links about our music). With your help we will try to move forward on our way, and play more music online for you, try to travel more (maybe where you are) and try to make beautiful recordings in live and in studio too. We hope you enjoy our videos and posts also on facebook and youtube. Waiting for you there too. And thank You!!!!!
Ko-fi helps creators earn money from their passion. We don't take a fee from donations!
Start a Page