More Films!
Please help me raise money for my next short film :)
My name is Emily Gutierrez and I'm a filmmaker from Canada. Most of my work centres around films that shed light on queer women. Your donations will go toward creating more films like this, so that people like me can see themselves represented on screen.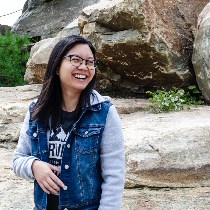 Emily Gutierrez
Hi everyone! I wanted to say thank you to everyone who has donated! It really means a lot that you have supported me and the work that I do. Because you've donated, I'll be able to pay my amazingly talented cast and crew. It also means that I'll be able to put this film out into the world by sending it to film festivals. Then once that's done it'll be available online (which is where the boring, but necessary lawyer stuff comes into play). If you haven't checked out my other films yet, Italian 101 is available to watch on tellofilms.com. The sequel, Italian 102, is currently being shown in film festivals! Check out my Instagram @italian101film for updates on where Italian 102 will be showing. Once again, thank you for your support and generosity!
Ko-fi helps creators earn money from their passion. We don't take a fee from donations!
Start a Page