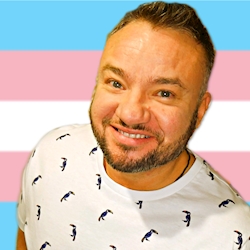 FinnTheInfinncible - Finlay Games
Why I Do What I Do Everyone's identity should be celebrated, which is why I share openly as a transgender gay man. I also share openly as a person in recovery, who manages complex mental health challenges, there should never be any shame in this either. The content I make aims to empower others to be proud of who they are. Another reason why I share openly is that it can often be difficult to find information on gender transition, especially phalloplasty. I have made it my mission to create a ton of free resources, and provide support so that everyone can find the info and guidance they need. How Your Donations Help If you enjoy and benefit from my content, and would like to say thank you, I would love you to buy me a virtual coffee. Every coffee donation, commission, or shop product you buy, helps to support the work I do in creating free content and providing support for people that need it the most. Perks For Supporters In return, as well as having that glow of knowing you are supporting my work, you will also get some thank you perks from me too. There are no donation or monthly support tiers, perks remain the same at any price range, giving you the freedom to pay whatever you can afford at any time. One Time Supporters Anyone who makes a one-off donation of any amount will be able to access my supporters-only posts, exclusive videos, and blogs for 30 days after making a donation. Monthly Recurring Supporters - Join The FinnFam Flock Club! If you chose to make a recurring monthly donation, you will have free access to all my exclusive posts at all times and you automatically become part of the Flock Club. As a Flock Club member, as well as exclusive posts you also receive early access and discount codes for my Teespring store and an invitation to access my private Discord community space. As a member of the Flock club, you are also invited to become part of the work I do if you wish, by taking part in polls and suggestions in the discord community and via coffee club exclusive posts. Thank you so much for checking out my Kofi page and for supporting my work. Don't forget to follow my page too so you get notified when l upload exclusive posts and perks!
Ko-fi helps creators earn money doing what they love. We take 0% fee on donations!
Start a Page