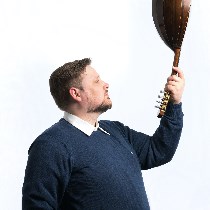 A Mandocello´s Yearbook
The idea behind "A Mandocello´s Yearbook" is to expand the repertoire for 8- and 10-string mandoloncello as a solo instrument by constantly collecting arrangements and original compositions. The individual chapters contain one piece in standard notation and tablature, information about composers, about the piece itself and the technical execution. Arrangements for the 8-string mandocello have been added to compositions for 10-string mandocello, also called liuto cantabile. For each coffee you get one chapter (maximum 1 chapter per month). If you have collected 8 chapters or more, you will receive the book for free after completion. I write this book for and with the Mandolin and Mandocello Community. Tips, requests, suggestions and corrections are always welcome. ----------------------------------------------------------------------- Die Idee hinter "A Mandocello´s Yearbook" ist es das Repertoire für 4- und 5-chöriger Mandoloncello als Soloinstrument durch stetiges Sammeln von Arrangements und Originalkompositionen zu erweitern. Die einzelnen Kapitel beinhalten ein Stück in Standardnotation und Tabulatur, Informationen über die Komponist*innen und Hinweise zum Stück selbst und zur technischen Umsetzung. Bei Werken für 5-chöriges Mandoloncello, das auch Liuto Cantabile genannt wird, sind Arrangements für das 4-chörige Mandoloncello hinzugefügt worden. Für jeden Kaffee bekommst Du eine Lektion (maximal 1 Lektion pro Monat). Wenn Du 8 Lektionen oder mehr gesammelt hast, bekommst Du das Buch nach Fertigstellung kostenlos dazu. Ich schreibe dieses Buch für und mit der Mandolinen- und Mandoloncellogemeinschaft. Tipps, Anfragen, Vorschläge und Korrekturen sind immer willkommen.
Ko-fi helps creators earn money doing what they love. We take 0% fee on donations!
Start a Page