I'm working on various things and would like to continue to do so. Trying to develop stuff to give to tier members, looking into a potential podcast, and continuing to do what I already do.
Hello! I'm Natalie, an independent artist. I enjoy exploring a lot of things, but what I love most is illustrating fantasy characters. I have a background in graphic design, game art & design, and animation. It's been a struggle, but I hope to be fully independent on my work one day. At the very least living on the art I want to do. I also enjoy playing games and will share that once in a while. My hope is to keep working on my skills while sharing and building with a community! I want to pour all my heart and soul into what I love, and hope to keep doing so with the support of Ko-Fi.
x
1708
Received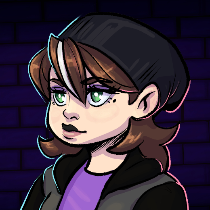 Natalie C
Some weird artist who enjoys drawing fantasy characters and making 3d Models. TTRPG enthusiast, plays the video games, struggles under social pressure.

Make money doing what you love. No fees on donations!
Start a free Ko-fi page