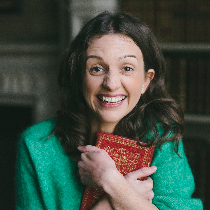 Lauren Learns History
Thank you so much for your time and interest in supporting my history YouTube series for children, families and anyone else with a love of history! I've been working in many of London's museums and heritage sites as a professional storyteller to bring history to life for families since 2014 and now I've teamed up with my husband, Ian, to share my journey online with you! The series is aimed predominantly at children aged 4-12 but we welcome anyone with a curiosity for the past to join us! Our aim is to inspire families to visit the sites we film, uncover some of the exciting stories we feature and just generally be in-spired to learn history! Where can you watch Lauren Learns History? Head over to www.youtube.com/laurenlearnshistory where we will be releasing new episodes every fortnight on Thursdays at 4pm and are building up to weekly releases. In addition to this we will be updating our 'Lauren Recommends' playlist weekly, bringing you all the best kids history content that YouTube has to offer! You can also follow me on Instagram, Facebook and Twitter @laurenlearnshistory for regular content and updates. How do we use the Ko-Fi support? As this is a relatively small educational channel and we mark our videos as 'Made for Kids' any ad revenue we might get off each video is very small. So, this isn't a personal money-making project. Any money we receive from our Ko-fi page will go into funding new equipment and to assist us with our time to write and produce each episode. Your support will help us to develop the series further to make it as insightful, fun and educational as it can be for families. We are hugely grateful for all the support we receive and want to emphasise please don't feel you need to give us anything! We'll continue to make the series free for families to enjoy together on YouTube. How else can I support? Wee also have a Patreon page where you can subscribe to support us regularly and access additional content. You can also help by simply watching, liking, subscribing and sharing our videos over on YouTube to help us spread the word and build up our channel!
Ko-fi helps creators earn money doing what they love. We take 0% fee on donations!
Start a Page