Support ten musicians
I want to start by paying something to the musicians whose gigs I had to cancel at the Tree House Bookshop. There are ten musicians in total. This first goal is to support them.
I run a small music venue in my second-hand bookshop (currently closed because of covid-19). I had to cancel several live music gigs. I have been looking for a way to help touring/gigging musicians who have lost their livelihoods, and this is part of that help. #musicmatters
x
146
Received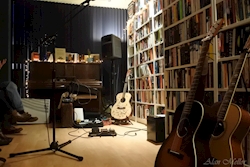 Victoria Mier
Touring/gigging musicians have had all their gigs and festivals cancelled due to covid-19. This is their livelihood, both from gig fees and the opportunity to sell CDs and other merchandise. We don't know when gatherings, including live music, will be allowed to recommence. I cancelled gigs at my bookshop, and would like to start by supporting those musicians - 10 in all across 7 gigs. This is part of the way I would like to help. I am aiming to send £100 to each musician. If I can do this for those ten, I will carry on to support other musicians. Please buy a musician a coffee or two! Our coffees are £5 because they are very good. #MusicMatters
Ko-fi helps creators earn money from their passion. We don't take a fee from donations!
Start a Page