Hello! Comedian and content maker making and promoting experimental short films, minimalist music and comedy content/live events to watch and stream live.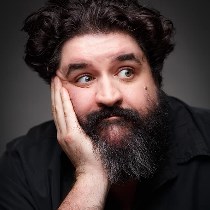 Richard Sandling
Hello. New to this and finding my way. In effect, any money I get will be used to help me either fund an artistic project of my own, be that equipment or paying for time of others who help or just give me a bit of breathing room financially to be able to focus on my art without life responsibility anxiety. Before lockdown i was making a short film a month, amongst other things, but now in quarantine it is harder to specify what work will be coming but as I can't actually go out and get a coffee, it will be used to create art that I will put out there. If you have any things you'd like me to do that you'd prefer to be encouraging then do get in touch. Cheers!
Ko-fi helps creators earn money from their passion. We don't take a fee from donations!
Start a Page