Hi! I'm a developing freelance illustrator that works mainly in manga/cartoon style but is adaptable. I am also a fresh doll customiser! I'm a super casual gamer but trying to get into some easy streaming. Check out my work at any of these links below! http://www.rowanlee-foysterillustration.co.uk/ https://www.instagram.com/roobee2shoes/ (I update here the most!) Any Ko-fi's (or teas, or hot chocolates! Mmmmm...) are completely optional, but always welcome and appreciated! Any funds will go towards any new materials or equipment I need to help me keep my creative work going and make life just that little bit easier. Thank you for your time! Have a lovely day!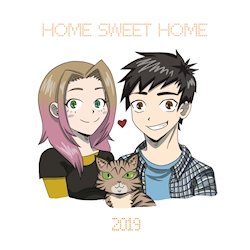 Roobee2shoes
Welcome to my Ko-fi Page! Please check out one of my links in the 'About Me' bit or check out the 'Gallery' to see what I do! If you enjoy my content, please consider supporting me. Thank you! -Roobee2shoes x
Ko-fi helps creators earn money from their passion. We don't take a fee from donations!
Start a Page