I'm Samn and I'm an illustrator and comic artist living and working in the UK! I create Where The Wolves Are, a modern fantasy webcomic about queer monster girls looking out for each other and holding hands. You can read it for free at wherethewolvesare.co.uk You can check out my other work under @SamnDoesArt on Facebook, Twitter and Instagram. Thanks for your support!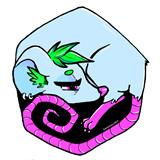 Samn
each kofi you buy only makes me gayer and more powerful
Ko-fi helps creators earn money from their passion. We don't take a fee from donations!
Start a Page