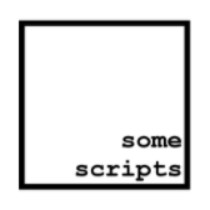 some scripts literary magazine
Welcome to the Ko-Fi for some scripts literary magazine! We're so thankful you're here. As said in Issue 1's Letter from the Editor: "It happened. We did it. We made a literary magazine filled entirely with scripts. Only scripts. "This magazine was born out of a desire to have a place where scripts feel they belong in the literary world... As a playwright myself, there is some sort of stigma in the literary world about scripts. 'They're not exactly literary because they're meant to be performed or filmed.' I still firmly believe scriptwriters deserve the same recognition and opportunities in magazine publication that many poets and prose writers have. Scriptwriters deserve a platform where their work can be read. With some scripts, I hope that we can be a step in the careers of both emerging and established—but especially emerging—scriptwriters in their pursuits for performance, a film/TV project, or further publication. The goal of some scripts isn't just to be a magazine: we are looking to grow a more connected community of people who write plays, screenplays, monologues, sketches, etc. We want to be an entity that supports you." Now more than ever, these words still ring true. As the COVID-19 pandemic continues to sweep the world, as theatres remain closed, as productions move online, as filming may be postponed, the chance to read scripts from emerging and established writers is one we want to extend to everyone. Please consider sending us a "coffee": your small donation will help us begin to compensate contributors, compensate our reading team, and begin a Submittable account to better track our submissions. If you don't have the means to donate a coffee? Don't worry: we ask you please share the word! :) Thank you for your time! We're excited to keep supporting scriptwriters!
Ko-fi helps creators earn money doing what they love. We take 0% fee on donations!
Start a Page