Squee Projects
We're currently raising funds to complete the Joe Lansdale documentary and bring it to the Alamo Drafthouse for a special screening, complete post on the 3rd installment of the Squee! web series and on our horror short #TransformHerFilm.
Oppenheimer is an independent filmmaker from NYC. Her work focuses on fandom and pop culture. She is the Executive Producer/Director of All Hail the Popcorn King; The Joe R. Lansdale Documentary. Like many artists, our income has dried up due to screening cancellations. If you can spare it ,please help support my work with a contribution or a merch purchase while I wait for Unemployment to catch up to the overload. Our DVDs are ready to go but we need them to re-open the post houses to get them made. Additional info at https://squeeprojects.com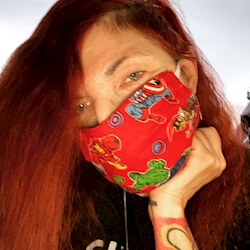 Squee Projects, LLC
Welcome to my Ko-fi Page. I'm the creator of a fangrrl collective that supports and promotes each other's work. We're always happy to help out other creators, do presentations at cons and other events. Email [email protected] if you'd like more information or to join our collective.
Ko-fi helps creators earn money from their passion. We don't take a fee from donations!
Start a Page