ciao! We give art talents and amateur photographers the chance of being discovered + showcasing their photos in Venice Italy. One Day In Venezia Photo Contest awards monthly winners all year round; the final Grand Prize is a weekend in Venice for 2 (trip included from wherever) plus free art exhibits. Supported by registration fees, and coffees! Enter the contest + Like us if you like us. Grazie!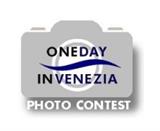 OneDayInVenezia
Welcome to our Ko-fi Page. If you enjoy our content, please consider supporting what we do and collaborating to the project: we have no financial support other than registration fees. Your donations will be contributing to the development of this and other photography project in Venezia. GRAZIE
Ko-fi helps creators earn money from their passion. We don't take a fee from donations!
Start a Page