Raven John, an Indigenous artist with a sculpture and textiles background. Studies at Emily Carr University of Art and Design, currently lead sculptor on a production with Spotted Fawn Productions,.
x
108
Received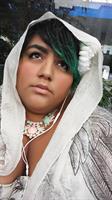 Raven John
Need to know if something is Racist? Send me a Ko-Fi and your information for a quick take!
Ko-fi helps creators earn money from their passion. We don't take a fee from donations!
Start a Page