Choose a Membership Level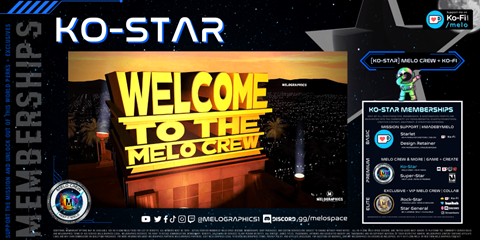 Unlock MELO CREW basic membership perks for streaming, gaming, and creating including exclusive Ko-Fi content, member-only shop items/freebies and access to select custom services.
MELO CREW Perks - Twitch/Discord

Gaming Friends (Epic/Xbox)

MELO MONDAYS - Play on Stream

Discord Access

Exclusive Requests

Exclusive Discounts

Exclusive Content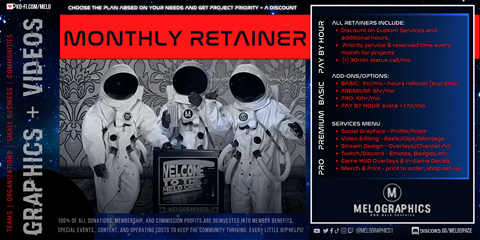 CLIENT | Monthly Retainer
CONTACT MELOGRAPHICS prior to discuss project/support needs for personalized pricing based on the #hrs/mo and scope of work. **WHAT YOU GET** Professional high-quality work with guaranteed deliverables, clear timelines, and ongoing collaboration/communication with MELOGRAPHICS directly throughout the month. Base option includes 2hrs/mo + 1 30min project call. **HOW IT WORKS** Choose the graphic design and video editing services you want every month based on your projects and needs. Additional ad hoc hours may be purchased as needed or included in monthly negotiated rate based on initial intro call. Please see full terms and details: https://melo.graphics/legal.
Dedicated Creative Support (2hr/mo)

1:1 Monthly Project Calls

Premium Project Section/Channels & Brand Folder

Priority Project Status

Discord Access

Exclusive Requests