Need a new digital tool to keep up comics and new merch!
Hello! My name is Ramona! I create comics and all sorts of art! My favorite is Megaman art but i also do other creations as well! I love playing video games and blog about art materials i use. support me on my art adventures! Proceeds help fund supplies,tech tools and paper to create these works of art. Comics are free to read! I update regularly so come back often for new content! My commissions page is open! Feel free to check out pricing by clicking on commission's for info and previews. 😺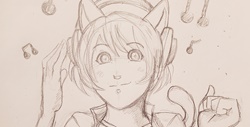 Ramona
Help support me with creating comics and content for fans! Float me a Green Tea and create some cool wallpapers! More fan comics! Original art! Lots more!

Make money doing what you love. No fees on donations!
Start a free Ko-fi page