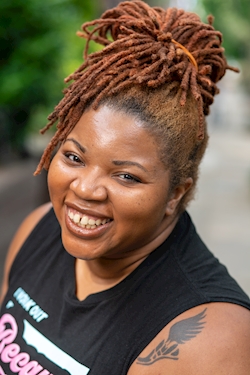 Latoya Shauntay Snell
Hey Random Person! Whatever way you made your way over here, I appreciate you. If you haven't figured it out yet, my name is Latoya Shauntay Snell and I'm a freelance food and fitness blogger of Running Fat Chef. Despite working with several companies, freelance life is hard work. Some months make me scream "Yaaassss" and other months look kinda questionable. With that stated, I received a lot of inboxes from people asking how you can help me. In general, your love and support is great. Financially, you can drop me an e-tip whenever you feel compelled to do so. Nothing is too small in my book. Regardless of what you opt to do, check out my daily blurbs through social media. Over there, you might find anything from my daily workout routine to some random blurb about something I'm fired up about and of course, I'll be cooking something up at least once a week on my feed. It's beautiful reading feedback from people that they've learned something or improved their self esteem from my content. Ideally I want to grow as a content creator. In the meantime, I'm just trying to keep the virtual lights on. The content will keep rolling for as long as I have a creative muscle in my body. Nevertheless, thank you for considering to buy me a cup of ko-fi!
Ko-fi helps creators earn money doing what they love. We take 0% fee on donations!
Start a Page