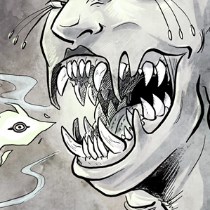 Study Of Monsters- Comics & Illustration
Hello my lovelies! You're here for the ART! Here's a quick rundown of what benefits donating or subscribing to my Ko-Fi gets you! SINGLE DONATIONS!! You permanently unlock access to the following: -THE DRAGON BOOK, bestiary style entries on a variety of dragons from myths around the world! Includes sketches and rough drafts of the dragon designs! -COMIC WIP IMAGES, partially finished images from any comic I'm actively working on, giving you an early glimpse! — MONTHLY SUBSCRIBERS As long as you remain subscribed, you gain access to the following: -all Single Donation bonuses -TIME LAPSE VIDEOS, neat recordings of my process creating various bits of art, from commissions to comics! -COMIC EARLY ACCESS, instead of waiting while I post comics page-by-page, you get to read short comics all at once! -WE CAST STRANGE SHAPES, you get to view full issues of WE CAST STRANGE SHAPES, my serial comic, without having to buy the pdf! Nice!
Ko-fi helps creators earn money doing what they love. We take 0% fee on donations!
Start a Page