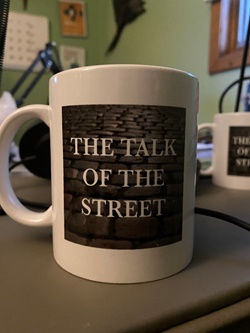 The Talk of the Street
If you like our unofficial Coronation Street catch-up podcast and want to show your appreciation, we officially like coffee! $5 will buy 2 x 24oz of gas-station joe from Quality Dairy. This is Gav's Go-To coffee. $10 will buy 2 x 16oz lattes from Biggby, the fancier chain coffee-shop in town, and Helen's preference. Either option will get you our eternal gratitude and a thank-you shout out on the show. NOTE -- Until the end of November 2021, all coffee money gifted to us will be donated to the UN World Food Programme and their mission to deliver lifesaving food to children and families most in need, wherever they are in the world. You can learn more about their work at https://www.wfp.org. OCTOBER NEWS -- Thanks to our listeners who Ko-Fi'd us coffee in October. That generosity meant that we donated $130 to The Breast Cancer Research Foundation. This will be matched between 3x and 5x due to incentives and employer match.
Ko-fi helps creators earn money doing what they love. We take 0% fee on donations!
Start a Page