New Costume: Jester from Critical Role
I'm actively working on getting supplies for Jester from Critical Role. My first CR cosplay and body painting experience. Donating will help me collect supplies faster and complete the costume more quickly. Progress will be streamed on my Twitch channel!
Hello! I am cosplayer, maker and streamer! Across my various platforms you'll see costume and photography galleries, along with tutorials and reviews of materials, products and processes I use in my projects. Supporting me helps make sure I can keep creating new projects and sharing them with you.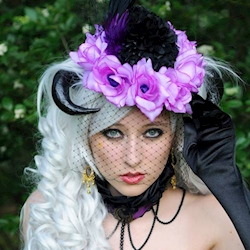 Koneko Your Average Nerd
Welcome to my Ko-fi Page. If you enjoy my content, please consider supporting what I do. All donations go into creating content (costumes, photoshoots, streaming) to share via my channels.
Ko-fi helps creators earn money from their passion. We don't take a fee from donations!
Start a Page